Kenan's Mill
High on the wooded bank, suspended over rushing brown waters of Valley Creek, the old mill stands.
Weather-worn boards, still bearing marks of a craftsman's tools, still staunch in protection of the mill stones and empty bins within.
And on the wide-planked floor, an occasionally shaft of sunlight dances fitfully, withdrawing through cracks between the silvery lathes.
Only the lapping of swift-rushing waters against crumbling brick walls below breaks the silence of years. And echoes whisper of days that are no more, of a lifestyle now history.
Built in the mid-1800s by the Kenan Family, Kenan's Mill produced water-ground meal, grits, and corn for over 100 years. As use of local gristmills declined, the mill survived by serving local grocers, and a miller lived in the residence until 1968. The mill property also once served as a water park. In 1904, Owen Kenan made improvements to the mill and added a swimming pool, dance floor and picnic island, but a flood in 1939 destroyed the buildings and the island. In 1997, Elizabeth Kenan Buchanan generously donated the mill property to the SDCHPS for continued preservation.
When the enormous water-powered stones of the gristmill start up again, the 48-inch grist stones will turn as the gates are raised to let Valley Creek course through the tunnel under the mill and reach the turbine. The stones of the mill are the original millstones and were sharpened during restoration. Running at top speed, the mill could grind a ton of meal. However, we now run the mill slowly so that visitors may watch the process.
The Kenan's Mill grounds include the original gristmill, a fascinating 19th Century brick charcoal kiln, an early 1900s miller's cottage, and a swinging bridge over Valley Creek. Restoration is ongoing, and the mill is currently operating on special occasions by the Selma-Dallas County Historic Preservation Society. Kenan's Mill remains one of the most interesting historic sites in Dallas County. Restored in time for Kenan's Mill Days of Pilgrimage 2002, the first bag of corn was ground into meal on March 16 of that year.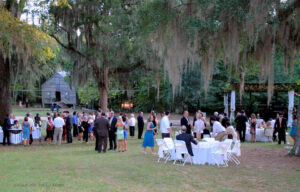 tours
Tour groups are welcome! $5 per person, minimum $100. Please contact us to arrange a date and time for a private tour.
Visitors can cross Valley Creek on a swinging bridge and see the unique beehive charcoal kiln. Tour the mill house and view the kitchen garden before exploring the antique farm implements. The property has public restrooms and a bandstand.
Rent Kenan's mill
The picturesque Kenan's Mill property is available for parties, meetings, weddings, receptions, reunions, and more. It can also be booked for photography sessions.
For complete rental information and our photography policy, please click the button below.